Agriculture is a major sector of Uganda's economy accounting for the majority of the country's exports and employment. This is partly due to Uganda's warm tropical climate with plenty of rainfall and sunshine.
However, there are a number of threats to Uganda's agriculture economy, which have implications for the ability of the country to meet the growing demand for food, compete in national and international markets, and increase productivity. These major threats include:
Climate change affecting the onset and length of the growing season, and increasing the frequency and severity of extreme events such as droughts and floods (Figure 1)
Biological risks (pests and disease) often exacerbated by climate change
Logistical and infrastructure risks, where farmers lack sufficient storage capacity and/or suitable road networks to get their crops to market
Market risks such as price fluctuations; a result of many influences including weather conditions
Political and security threats, for example cattle raiding, the influx of refugees and changes in land rights to name just a few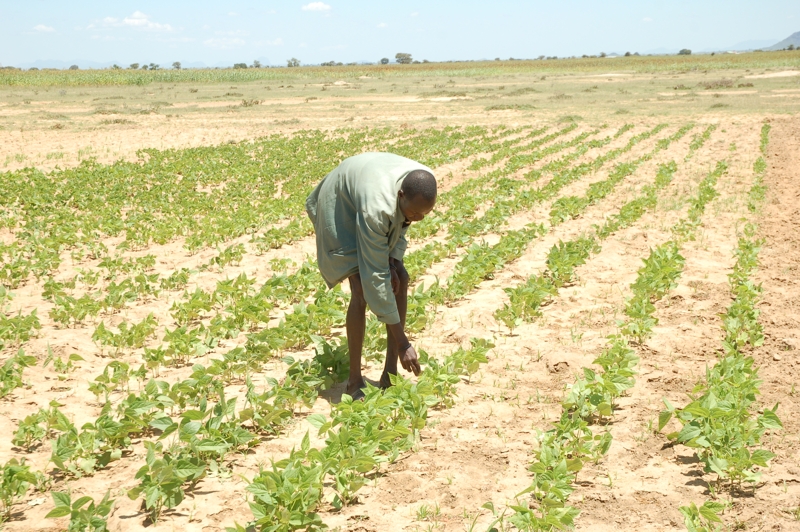 The Drought and Flood Mitigation Service (DFMS) aims to help decision makers in Uganda address some of these threats. One way in which this is achieved is using Earth Observation (EO) data.
EO provides a means to assess and monitor agriculture from local to national scales. It is a powerful tool providing both current and historical spatial information on the environment, and is particularly valuable for rural and remote areas.
To demonstrate the power of EO for agriculture, Environment Systems has been working with Kakira Sugar (one of the major sugarcane growing companies in Uganda). Given that Uganda is one of the largest producers of sugar in East Africa, any data that informs on the state of the crop will enable sugar producers to make more informed decisions when growing sugarcane, safeguarding its production for national and international consumption.
Sugarcane itself is a tall perennial grass that can grow two to six metres tall and requires a good supply of water. Typically, sugarcane is grown on a plantation surrounding a processing plant. Sugarcane can also be found in areas surrounding the plantation, grown by communities and individuals. These are known as outgrower farmers. This agriculture practice is seen at Kakira's main estate.
Environment Systems are now engaging with Kakria in order to understand the agricultural practices that are employed (e.g. planting of different crop varieties, application of fertiliser etc.) and how such practices can be monitored from satellite imagery. Ultimately, we are helping Kakira to improve their decision making when it comes to planting, applying fertiliser or herbicide, irrigation and harvesting. Such insight will reduce their inputs, produce less waste and increase their yields.