East End Pond is a conservation area in Anguilla, the island's only protected salt pond and an internationally recognised reserve for wetland bird species. Fed from a large catchment and supplemented by natural springs, the pond intermittently dries out in the summer, exposing mudflats attractive to shore birds. However, during heavy rainfall events, such as those associated with hurricanes, major flooding can take place. These damage the ecological balance of the pond, the surrounding vegetation, and inundate the main road and buildings within the local community. The pond has also been subject to siltation, decreasing the volume of water the pond can hold which can increase flood risk.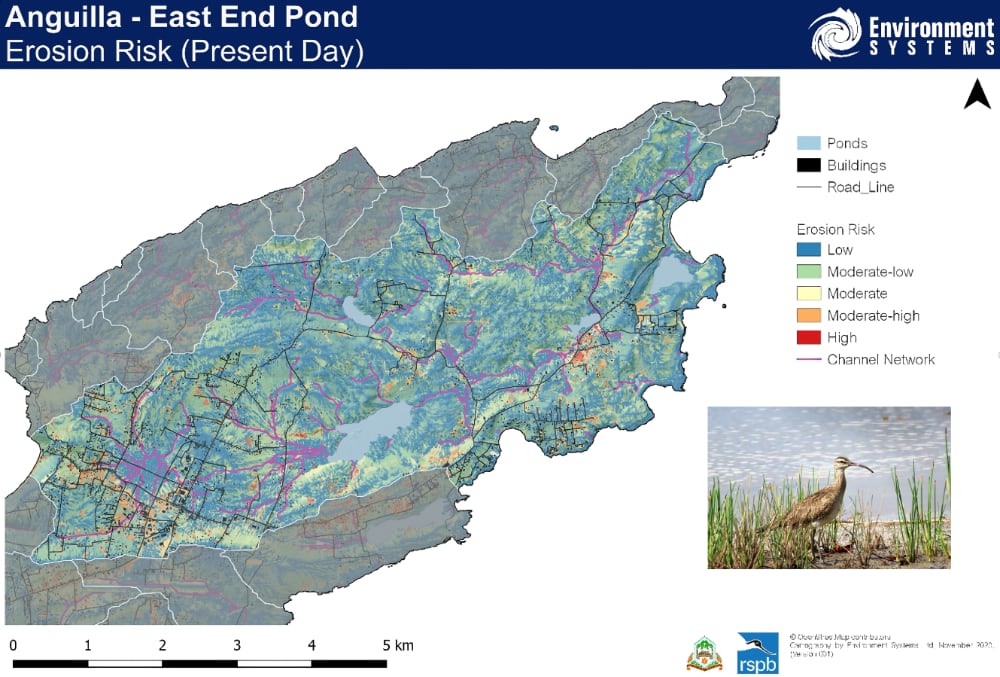 Working with the RSPB and Anguilla National Trust, Environment Systems has carried out a study to investigate the potential for flooding, and identify where and how nature-based solutions might mitigate the issue. Planting native vegetation throughout the wider catchment can help to reduce the infill of East End Pond caused by soil erosion. Reducing sediment infill will help maintain the water volume the pond can contain during flood events.
Using a variety of datasets, including digital surface models, hydrological data and rainfall data, Environment Systems created a number of different models such as flood extents and risk from erosion under different scenarios. In addition, we created a series of maps to illustrate how habitat management interventions (natural solutions such as increasing the capacity of vegetation) could improve ecological functioning with regard to flood prevention and mitigation of erosion. This work will inform wider wetland conservation action plans, and planting proposals in partnership with local experts and community organisations. This will help to improve the ecological status and climate-resilience of these important habitats. They will also be a useful tool for policy makers when new housing is proposed.