Overview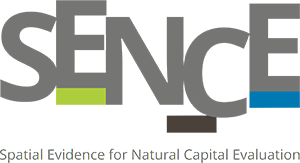 There is growing recognition of the importance and role of ecosystem services, green and blue infrastructure and the protection of biodiversity from both governments and industry. Understanding the impacts on ecosystem services is necessary to meet increased demand for housing, food, energy and water in a balanced and sustainable way. This is often referred to as taking the 'Ecosystem Approach.' SENCE gives you the evidence to do just that.
Application Areas
SENCE maps and layers can be used for:
Supporting natural capital valuation
Urban planning and development control
Biodiversity planning
Land use restoration for climate change and flood mitigation
Natural resource management
Strategic Environmental Assessment (SEA)
Environmental Impact Assessment (EIA)
To direct green infrastructure and strategic land use policy
To encourage stakeholder engagement
Environmental monitoring
The SENCE Approach
Environment Systems has developed the SENCE tool, the result of four years of openly accessible research and operational delivery. SENCE uses multiple datasets and scientific knowledge to model ecosystem services and produce maps and data. The maps show natural capital which is the existing value of the environment in terms of service provision. SENCE modelling will also show the risks to ecosystem services, and the best places to enhance them, often referred to as 'opportunities mapping' or mitigation.
The starting point for SENCE is the Habitat Asset Register. This provides a structural habitat map in a GIS format linked to a table which shows how well the habitats provide the ecosystem services. Using the Habitat Asset Register and information from key factors such as landform and hydrology we apply further analysis to produce ecosystem service maps, opportunity layers and risk models.
There are two levels of SENCE; SENCE Basic and SENCE Consultancy.
SENCE Basic
SENCE Basic products provide insight and greater understanding of natural capital. The outputs of SENCE Basic are:

Habitat Asset Register
Ecosystem services risk assessment
Landform function
Mitigation & compensation opportunities
Resilient ecological networks

SENCE Consultancy
SENCE works with the drivers and policies impacting the land to understand which ecosystem services are most valuable in your area. We will then provide a tailored set of maps which build understanding around:

Biodiversity (incorporating ecological networks)
Pollination
Natural flood management
Erosion risk management
Water quality (sediment)
Climate regulation – soil carbon
Climate regulation – vegetated carbon
Green infrastructure
Blue (water) infrastructure

Outputs include reports and maps in the following formats:
Our Work
Environment Systems has successfully produced ecosystem services maps on both national and regional projects across the UK and Ireland and in other parts of the world. The map below indicates the geographic scope of our work.